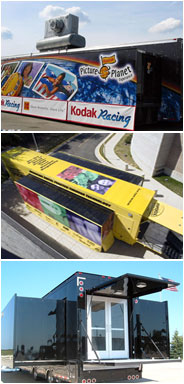 Hospitality Trailers - Custom Design and Fabrication
IMM is a full service mobile marketing company, specializing in the design and fabrication of expandable trailers and custom promotional vehicles. We deliver both B2B and B2C experiential vehicles, mobile marketing build-outs, and tours.
Our IMM team provides support services to both agencies and marketing companies executing their design - delivering expandable trailers for your promotional tour on time and on budget. We can handle all or part of your program - it is your choice.
IMM doesn't simply create vehicles that are road worthy - we create experiential environments. Our team has the creativity and experience to create, fabricate and manage the most demanding tours that stimulate positive and emotional heights to the relationships you have with your clients.
Go Mobile with Innovative Mobile Marketing and find out why top agencies and brand managers choose us to plan and execute their mobile marketing campaigns.
Visit our full mobile marketing website today, and find out how IMM can help drive your marketing objectives to new heights.